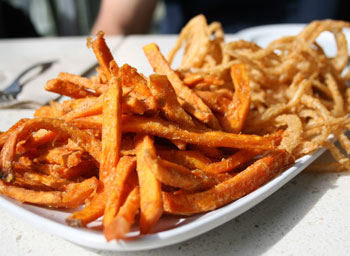 It hardly seemed like Fall on the day my favorite exploring partner and I strolled the streets of the Lincoln Park neighborhood in Chicago just two weeks ago. From our hotel on West Surf Street, a leisurely five-minute stroll down Diversey took us to The Counter for an early lunch.
I hummed along with Macy Gray's "Beauty in the World" playing in the background as I created a customized vegetarian burger from the list of fresh ingredients on the menu attached to a clipboard. My partner sitting across from me at our table along the front wall of wide open windows designed a loaded beef burger. We started filling our hungry tums with a "Fifty-Fifty" plate — half sweet potato fries and half crispy onion strings. I highly recommend that platter.
Filled with burgers, strings and fries, oh my — we continued our exploration by foot. We did have a destination in mind. About a mile and a half from The Counter, we knew we would find a luscious dessert at Floriole Cafe and Bakery.
The temperature soared to near 80 degrees as we headed west from The Counter on Diversey. South on Halsted, West on Fullerton and south on Sheffield, passing the lovely Lincoln Park campus of DePaul University. We admired the architecture of the stately homes lining the streets along the way. Finally, west on Webster. We passed trendy boutiques and tiny restaurants as we walked the last few blocks to our sweet destination.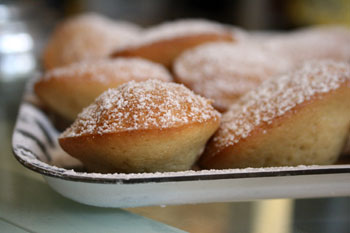 There, tucked into a cozy block of old buildings between Racine and Magnolia, was Floriole. Lunch time at the cafe was in full swing. Mothers clad in shorts, t-shirts and running shoes fussing over their children dined beside women dressed in suits and heels at tables on the sidewalk in front of the bakery.
Inside, the aroma of freshly brewed coffee and sweet desserts wafted through the air. The glass bakery case was filled with edible temptations — tarts, cookies, scones, croissants and sticky buns. Dainty madeleines dusted with powdered sugar and round pumpkin tea cakes decorated the top of the case.
We chose a table for two, not far from the huge window at the back of the cafe, allowing customers to watch the bakers at work on the other side of the glass.
What did I choose for my dessert?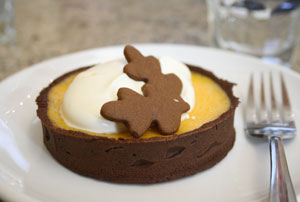 A tart, just the right size to share with my favorite guy. Spicy gingerbread crust held velvety smooth butternut squash custard. A dollop of sweetened cream shared the top of the tart with two leaf-shaped gingerbread cookies. Luscious and satisfying.
I wished we would have had enough days left in our Chicago vacation to pay another visit to Floriole Cafe and Bakery for lunch. A sandwich described on the blackboard hanging on the wall behind the counter caught my eye. The B.A.D. sandwich included bacon, arugula and date-almond spread with goat cheese on their own yeasted corn bread. I made note of the sandwich in the little red book I keep in my purse.
I love Chicago! So many neighborhoods to explore, so many restaurants to try, so many places to see. Each time I go to Chicago is a brand new experience. I'll go back soon.
In the meantime, I've made my own B.A.D. sandwich. I decided to try adapting my recipe for Apricot-Fig Tapenade. This time of year, I love serving the delectable tapenade with goat cheese and crostini as an appetizer.
I came up with an almond-date spread, spiked with port and flavored with orange zest, garlic and shallots. Bacon from Steve's Meat Market in Ellendale, Minnesota, Uncle Paul's bread from 3rd Street Bakery in Duluth, Minnesota, peppery, fresh organic baby arugula and organic goat cheese made in Wisconsin completed my breakfast sandwich. Yup, I made it my first meal of the day.
Works for me!
Floriole Cafe and Bakery – 1220 W. Webster Ave., Chicago, IL – 773-883-1313
B.A.D. Sandwich
For each sandwich you will need:
2 slices bread
Date-Almond Spread (recipe below)
Goat cheese, softened
Bacon slices, cooked crisp
Arugula
Olive oil
Crumble goat cheese over one side of a slice of bread. Try to gently spread it over the bread with the back of a teaspoon. Sprinkle some goat cheese over one side of remaining slice of bread. Spread with a layer of almond-date spread. Arrange slices of crispy-fried bacon over the spread. Pack a generous amount of baby arugula over the bacon. Lay remaining slice of bread over the arugula, cheese side down. Brush olive oil over the top of sandwich. Place the sandwich, oil side down, in a preheated heavy skillet, cast-iron pan or a hot griddle. Brush the top of sandwich with olive oil. When sandwich is brown, flip with metal spatula. Or, grill the sandwich in your panini press. When sandwich is golden, remove from pan. Cut sandwich in half and serve warm.
Tip from the cook
I make my own panini press by weighting down the sandwich as it cooks in my grill pan with a heavy cast iron pan.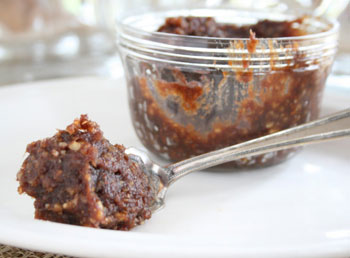 Date-Almond Spread
1/2 cup raw almonds, toasted
1 tablespoon extra-virgin olive oil
1 tablespoon finely chopped shallot
2 cloves garlic, minced
1 1/2 teaspoons minced fresh ginger
8 ounces pitted dates, chopped
1/2 cup port
1/4 cup water
1 (2-inch) strip orange zest
1 tablespoon balsamic vinegar
Salt and pepper
Put toasted almonds in work bowl of food processor. Pulse until nuts are finely ground.
In small heavy saucepan, heat oil over medium-low heat. Add shallot and garlic. Sauté for 1 to 2 minutes or until tender. Add ginger, dates, port and zest; bring to a boil. Reduce heat to medium-low; simmer for 20 to 25 minutes or until port is a syrupy consistency and dates are softened, stirring occasionally. Add water as it cooks. Remove and discard zest. Let mixture cool slightly, then transfer to food processor containing ground almonds; process all together until smooth. Transfer to small bowl. Stir in vinegar. Add salt and pepper to taste. Let cool. (Make ahead: Cover tightly and refrigerate for up to 2 days.)
Sue Doeden is a popular cooking instructor, food writer and integrative nutrition health coach. She is the host of Good Food, Good Life 365 on Lakeland Public Television. Her own hives full of hardworking bees and her love of honey led to the creation of her recently published cookbook, Homemade with Honey.