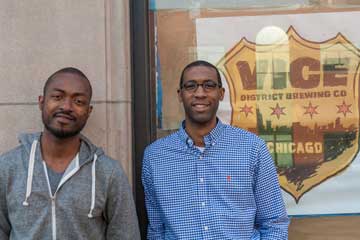 Standing outside the landmark Buick Building in Chicago's historic Motor Row District, Curtis Tarver II and Quintin Cole have beer and business on their minds. They plan to open a brewpub, Vice District Brewing, this summer, bringing the growth of Chicago's explosive craft beer movement to the South Loop, a short walk from the city's central business district.
I met Tarver and Cole last fall at another local brewery, Haymarket, where we chatted about their plans. I jumped at the opportunity to discuss them in more detail last week, and to visit their space, where construction will soon begin.
Tarver is an attorney by profession, and worked in Mayor Daley's office. Cole has spent 17 years as a physical therapist. Friends and Hyde Park neighbors, the owners have been homebrewing for years, and their wives are both supportive of their decision to take their hobby to the next level (and to free up some space in their basements).
During the six months they have spent developing their business plans, they have found Chicago's craft brewers to be very supportive. Chicago's other breweries aren't competition, but community. As a brewpub, Vice District Brewing won't be competing for shelf space in grocery stores, and will be unique to the area. Cole describes the South Loop as "growing and affluent, with a distinct sense of neighborhood". It's important for any new business navigating Chicago's permit and licensing processes to have the support of their Alderman, and the 2nd Ward's Bob Fioretti "asks a lot of questions, but has been great".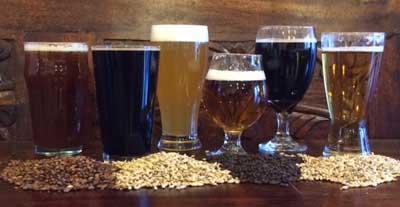 And what of their beer? Tarver and Cole plan on having some staples and some rotating beers among their ten taps, which Cole says will include some "wild and crazy things" (think sours and Bretts). While they don't yet have their manufacturer's license, they brought one of their homebrews for me to sample: a delicious, easy-drinking Belgian with some wheat, pale and honey malts. They are bringing a brewmaster on board, who will collaborate with the owners on recipes, and help them scale their basement-sized batches up to their custom-built 7-barrel brew system.
No food will be served at Vice District Brewing, but customers will be encouraged to order food from the 63 neighborhood restaurants which deliver to their location.
"Our vice is good beer", says Cole, "but also giving back". They plan to close to the public on most Monday evenings to host private events for local non-profits, and to use social media to encourage their staff and patrons to volunteer in the community.
Vice District Brewing - 1454 S Michigan Ave Chicago, IL 60605
Expected opening: Summer 2014. www.vicedistrictbrewing.com
Tim Ruddell lives in Chicago, and is the sustainable procurement manager at a professional services firm. He writes about food at Sfamo.com, and spends any remaining hours playing jazz piano and banjo.