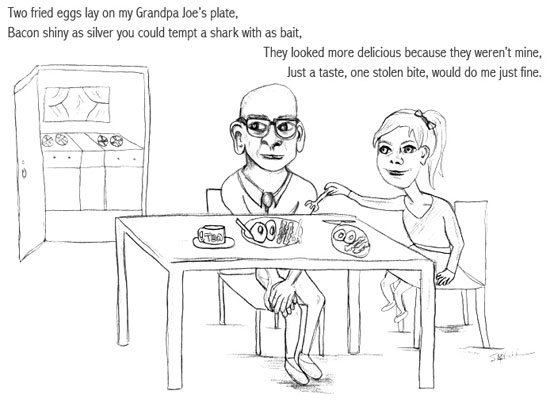 If I stole it, it would undoubtedly taste better. Ever since I was a little girl, despite the food on my grandpa's plate being absolutely identical to the food I had before me, I would try to steal his. His food was tastier, stronger, more courageous and intelligent than my boring food. The bacon was crispier, the sausage was juicier, and the egg yolks were sunnier. My food stealing extended well beyond the typical English breakfast, with his bowl of canned pears submerged in heavy whipping cream, his perfectly buttered toast, his milky, sugary PG-tipped tea in his bone china cup.
I'd sneak my fingers across the table every moment he was distracted by a question from my grandma in the kitchen, or by what the news reporter was saying. But no matter how stealthily I moved, he caught me mid-pinch. He would reach his huge hands under the table and grab my other small hand, and squeeze it just enough. He'd snarl at me every time, but always with an upward bend in his fake, forced frown. He'd bark and I'd jump, and it would end there, with an, "oh, alright then". He did it just to shock me, as if chastising me for stealing outweighed the affection that fogged the room; he knew that my stealing his food was the highest form of flattery.
These days I find it slightly more annoying than flattering, when my friends take food from my plate without prefacing, May I? Could be because they aren't my 5-year-old granddaughter. Could be because many years after my grandpa passed, I tried to rekindle the thrill of stealing by taking pieces of my brother's turkey bacon from his plate. Although, stealing food from my brother had different ramifications than an under-the-table hand squeeze.
I started to ask people why stolen food always tastes better. Because it's not yours, they would answer. Because if it's already yours, you don't want it as much, they would say. It wasn't the ingredients my grandma bought from the little corner shop in the village in Yorkshire, the old wicker basket she carried them home in, the way the rain washed over her as she walked them home, or the health of the grass the chickens were raised on, it was the fact that the food was his. And no matter how many times I make eggs and bacon, they will never taste as good as they were when I stole them from my grandpa's plate.
More of Sophie's writing and sketches can be found on http://skiparound.tumblr.com.