You Got Bacon in My Chocolate
by Michelle Locke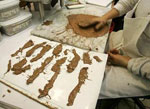 Here are three little words that might give the staunchest snacker pause: Chocolate-covered bacon.
It sounds so wrong. But it tastes just right, says Joseph Marini III, a fourth-generation candy maker who is selling the bacon bonbons at the Santa Cruz Boardwalk seaside amusement park.
"It's not just for breakfast anymore," he says with a grin. And this isn't just a wacky West Coast thing.
This year, Famous Dave's at the Minnesota State Fair is rolling out Pig Lickers - dark chocolate-covered bacon pieces sprinkled with sea salt.
Northern California


by

James Farmer III





Whilst in the Napa Valley, this Farmer gave into a deadly sin – no, not drunkenness in the wine country…gluttony! There's no beating around the bush about my love for food - I write about food, I...

Read more...

Florida


by

Nancy Ellison





Just for fun, close your eyes. Picture Zsa Zsa dining at Bistro Garden or Liz at Chasen's – bejeweled and pleasing to the eyes. Imagine charming George Hamilton tanned and natty in his double-...

Read more...

Los Angeles


by

Laraine Newman





The other day, my daughter Hannah and I stopped by Surfas. It always surprises me when she wants to go there, since their prepared food is, lets just say..um..esoteric. She ordered the 72 layer...

Read more...

New York


by

Ilene Amy Berg





I recently saw a new show on the Food Network called "Food Feuds". I like it – I get it. It's a simple premise: in towns all across the country there are passionate disagreements about "the best"...

Read more...