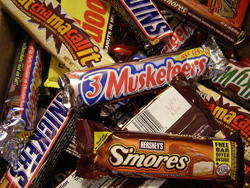 My husband Mike points out that the room goes silent as I watch a quivering gooey strand of icing bridge a hunk of pastry being pried apart by delicate hands in an Entenman's commercial. And when a pool of thick, rich Dove chocolate swirls around and folds itself magically over a brick of vanilla ice cream, my eyes glaze over. Then, when the caramel nutty chocolate of a Milky Way is fully exposed in delectable close up, my jaw goes slack. He tells me to face it: these commercials are, for me, like watching porn. Yes, I embarrassedly admit that I have fallen prey to the sexualized enticements of sugary things.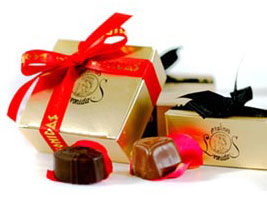 At precisely 2pm every day, I find myself combing my classroom, my desk, my closet, my cabinets, where I have squirreled away the many chocolates that the kids have given to me for Halloween, Christmas, Valentine's Day – hell, just because they like me. I have enormous chocolate lips in red cellophane (signed with their new vocabulary words, "To the svelte behemoth, Ms. Felcher"); giant and mini and almond chocolate kisses; gorgeous Leonidas 100% pure cocoa butter Belgian Chocolates in their trademark tiny gold box; half-pound Hershey plain, almond, and semisweet bars; Barnes and Noble Godivas and tiny Sees boxes (whoever thought of blending my greatest pleasures, chocolate and reading, definitely got it right!).
Unfortunately, the Russell Stover's and Whitman Sampler's cloying morsels leave me with an itchy palette – but even that doesn't stop me. More often than I should admit, I have emerged from my closet with a telltale chocolate smear somewhere on my face and have raised my arm and said to a room full of students – head bowed, of course – "Hi, I'm Pam. I'm an addict." Without missing a beat, they respond in that supportive singsong, "Hi, Pam." They know.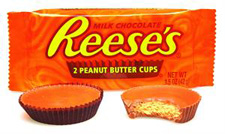 Yet, despite the seemingly endless supply the kids provide, the one chocolate for which I constantly yearn and which the kids (or anyone) would probably be too embarrassed to buy, the one chocolate that has not disappointed me since I first met it as a preteen, the one chocolate which patently exposes my purely pedestrian tastes is the Reese's Peanut Butter Cup.
Sure, I buy the occasional bag of M&M Peanuts or M&M Almonds (for health reasons, naturally), but the Reese's Peanut Butter Cup is the real thing: salt and sweet, smooth and rough, the perfect balance of dense, discrete, yet blended flavors and textures. It is a dependable chocolate, yet it is always a surprise. It's the PEOPLE MAGAZINE of chocolates, right there in the impulse rack at the grocery or drugstore checkout line, ready for me to convince myself it's vacation, so why not grab that PEOPLE and indulge in an equally lurid and vulgar, but always delicious chocolate.