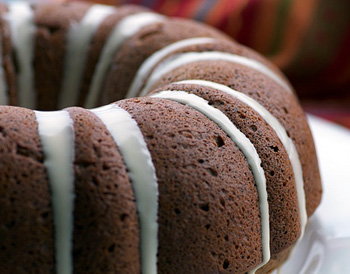 Serves 14 to 16

Cake:
3 cups all-purpose flour
1 teaspoon baking powder
1/2 teaspoon baking soda
1 teaspoon salt
1/2 teaspoon cinnamon
1/4 cup espresso powder or finely ground espresso beans
12 ounces PHILADELPHIA cream cheese, softened
1/4 cup butter, softened
4 extra large eggs
2 cups sugar
1/4 cup canola oil
2 tablespoons coffee extract
2 tablespoons brewed espresso or strong coffee
1 cup walnuts, lightly toasted and chopped

Glaze:
1 cup confectioners' sugar
2 to 3 tablespoons Kahlua, or other coffee flavored liqueur


1. Place rack in center of the oven and preheat oven to 350 degrees F. Coat a 9 to10-inch Bundt pan with cooking spray.

2. To make the cake, in a large bowl, combine flour, baking powder, baking soda, salt, cinnamon, and espresso powder.

3. In a separate medium bowl, add cream cheese and butter. Using an electric mixer on medium-high speed, beat until creamy. Add the eggs, sugar, canola oil, and coffee extract and beat until just incorporated. Add the dry ingredients to the wet in small batches, beating after each, until just incorporated. Stir in the walnuts. Pour batter into the prepared pan, and bake for 50 to 60 minutes, or until the top is golden brown and a cake tester inserted deep into the center comes out clean. Transfer the cake to a rack to cool for 10 minute before unmolding. Cool at least 30 minutes before glazing.

4. To make the glaze, whisk confectioners' sugar and Kahlua in a bowl until smooth and thin and it clings to the back of a spoon. Drizzle glaze over the cake.
- Recipe courtesy of Susan Russo