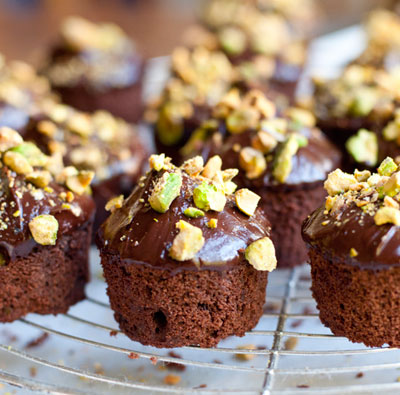 For a kosher version of this cake, replace the butter with parve margarine and the Valhrona chocolate with this chocolate. This cake is every bit as good dusted with confectioner's sugar but adding the rich, chocolate glaze puts it over the top.
Original recipe here
Yield: 1 7 3/4″ loaf or 22 mini cakelettes
Ingredients:
for the cake:
4.5 ounces | 125g dark chocolate (Valhrona)
3.5 ounces | 99 grams | 7 tablespoons unsalted butter
3.5 ounces | grams | 1/2 cup organic, pure cane sugar
1 ounce | 30 grams | 3 tablespoons amaranth flour
1 ounce | 28 grams | 3 tablespoons quinoa flour
1 teaspoon espresso powder
1 teaspoon pure vanilla extract
1.5 ounces | grams | 1/3 cup pistachios, chopped (plus extra to sprinkle on top)
1 ounce | 29 grams mini bittersweet chocolate chips
3 large, organic eggs, separated
1/8 teaspoon Celtic sea salt
For the chocolate glaze:
3/4 ounces | 21 grams | 3 tablespoons unsweetened cocoa powder
1 1/2 ounces | 42 grams | 3 tablespoons boiled water
6 ounces | 173 grams | 12 tablespoons unsalted, organic butter
2 3/4 ounces | 77 grams | 1/2 cup confectioners' sugar
8 ounces | 229 grams bittersweet chocolate
pinch of Celtic sea salt
Instructions:
for the cake:
• Preheat oven to 350°F
• Butter a 4″ x 7 3/4 " loaf pan and then line with parchment. or line a mini muffin tray with 2 ounce muffin liners (or these paper cups) and spray with cooking oil.
• Set a glass bowl over a pot of simmering water (don't let the water touch the bottom of the bowl). Add the chocolate, butter, and espresso powder. stir occasionally until combined and smooth.Let cool slightly.
• In another bowl, combine the egg yolks, sugar, and vanilla and whisk until light in color.
• Add the cooled chocolate to the yolk mixture. mix to combine. Add the flours, pistachio nuts, and mini chips. Fold until just combined.
• In a clean bowl of a standing mixer, with the whisk attachment attached, beat the egg whites and the salt until firm and light. Fold the whites into the chocolate mixture.
• If making the cake pour the batter into the loaf pan and bake for 35-40 minutes or until a wooden skewer inserted in the center comes out with a bit of crumbs on it. Let cool on wire racks.
For the glaze:
• Combine the cocoa and the boiled water and whisk until a thick paste forms.
• In a glass bowl, set over a pot with simmering water, place the chocolate and stir occasionally until melted. Let cool.
• In the bowl of a standing mixer fitted with the paddle attachment, cream the butter and confectioners' sugar, until combined.
• Add the cooled, melted chocolate and beat until you do not see any white streaks. Beat in the cocoa mixture until combined.
• Use immediately or can be stored in the refrigerator for up to 5 days. If storing, when ready to use, bring to room temperature, beat for a few minutes until smooth.
- Recipe courtesy of Susan Salzman