Chocolate Nemesis Cake
Preparation time: 25 minutes
Cooking time: 30 minutes

Serves Six

12 ounces dark baking chocolate, broken into small pieces
5 eggs
1 cup plus 2 tablespoons superfine sugar
2 sticks softened unsalted butter
2 tablespoons butter and 1 tablespoon all-purpose flour for the cake pan
1 cup water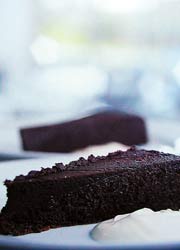 Preheat the oven to 300°F. Line an 8-inch diameter shallow cake pan 2 inches deep with nonstick baking paper, then grease it with butter and sprinkle with flour. Beat the eggs with one third of the sugar until the mixture quadruples in volume (this operation will require beating for around 10 minutes with an electric beater). Heat the rest of the sugar in a saucepan with 1 cup water until the sugar dissolves into a syrup. Add the chocolate pieces and the butter. Mix well. When smooth, remove from the heat and leave to cool. Pour the mixture over the eggs while it is still slightly warm and continue to beat gently until it is smooth (no more than 20 seconds). Pour the mixture into the prepared cake pan and place the pan in a roasting pan of hot water. The water must come right up to the top of the mold, so that the cooking is uniform.

Bake it for 30 minutes in the oven until it has set. Check for doneness by gently placing the palm of your hand on the surface. If it is not set, continue cooking. Cool the cake in the pan before turning upside down to unmold onto a cake plate.
Recipe by Rose Gray & Ruth Rogers
From the book Great Women Chefs of Europe
Italy


by

Michael Tucker





Jill was done. For three weeks I'd been force feeding her on a take-no-prisoners march through the restaurants of Italy. I had all but nailed her feet to the floor. And then four days in Rome...

Read more...

Mid-West


by

Sue Doeden





Have you noticed how easy it is to make a meal of just appetizers at a restaurant? On a trip to the Twin Cities last week, my husband and I paid our first visit to 112 Eatery. Located in the...

Read more...

Mid-West


by

Hope Stranger





I am not a cook. It's not that I'm a bad cook, per se. I just choose not to participate. My best friend Anna can attest to this better than anyone. She made me every bite of homecooked food I had...

Read more...

Los Angeles


by

Juliet Seniff





Marriage is a beautiful thing: the union of two people who perfectly complement one another. So be it with food. And what better way to appreciate them both than at Hatfield's, an epicurean...

Read more...