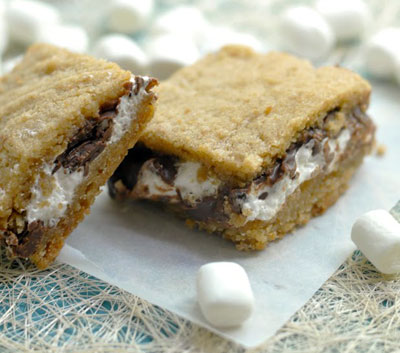 Adapted from bakedperfection
Yield: 16 bars
Ingredients:
1/2 cup butter, room temp
1/4 cup brown sugar
1/2 cup sugar
1 egg
1 teaspoon vanilla
1 1/3 cups whole wheat white flour
3/4 cup graham crackers crumbs (about 7)
1 teaspoon baking powder
1/4 teaspoon salt
4 3.5-oz bars Valrhona bittersweet chocolate

1 7 oz. jar marshmallow creme
(about 1 1/2 cup)
Instructions:
Preheat oven to 350°F. Grease an 8″ square pan.
In a large bowl, cream butter & sugar until light. Beat in eggs and vanilla. In a small bowl, whisk together dry ingredients. Add to butter mixture and mix on low speed until combined.
Divide dough in half. Press half the dough into the bottom of the pan. Place chocolate bars, evenly over crust. Spread marshmallow creme over chocolate.
Take the other half of the dough and and set on a silpat
mat. Place a piece of plastic wrap on top. Roll it into an 8″ square. Place square on top of marshmallow and press lightly, with the plastic wrap, into an even layer.
Bake 35 minutes or until light brown and crispy at the edges.
- Recipe courtesy of Susan Salzman