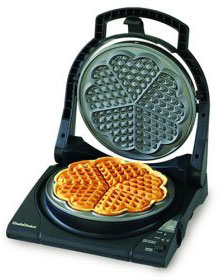 Who knew that making waffles could be so fraught with symbolism and stress? As a single woman, I never gave a thought about waffles, irons or, come to think about it, marriage. One day my mother called to say she couldn't, just couldn't send me a waffle iron. Why? She had read a "Cathy" comic strip where Cathy's mother went on her usual neurotic rant about how she couldn't buy Cathy a waffle iron because waffle irons meant children, which meant marriage, which meant husbands, none of which Cathy had.
So it was not until I was safely engaged that my own mother finally relented on the Cathy-Waffle-Curse and bought me a waffle iron-- a nice one with embossed numerals on one side, alphabet letters on the other. I have turned out hundreds of waffles from it as an engaged, married, separated and divorced woman. Seems the waffle iron was no guarantee of actually staying married. However, it far outlasted the marriage.
Some years later, in another Cathy strip, Cathy is charged with babysitting a friend's children. On her way out the door, the mother tells Cathy to "make the kids a few waffles for dinner," a request which sends Cathy into a tizzy for several frames. She can't, she complains, whip up batter and use a waffle iron--that's for mothers.
Relax, says the friend. We use frozen.


Here is my time-tested (since 1979) Buttermilk Waffle Recipe.

Buttermilk Waffles

2 cups sifted all-purpose flour
2 Tablespoons sugar
2 Teaspoons baking powder
1 Teaspoon baking soda
½ Teaspoon salt
3 eggs, beaten
2 cups buttermilk
½ cup butter, melted

1. Mix flour, sugar, baking powder, baking soda and salt in a large bowl.
2. Beat the eggs and milk together until blended; add along with the melted butter to the dry ingredients and beat only until batter is smooth.
If batter is too thick, add a few teaspoons at a time of buttermilk until spreadable consistency is achieved.
3. Bake in a waffle iron until crispy.
4. To keep waffles warm, put them on wire racks in a 200-degree oven. Until you're ready to serve them, they'll stay warm enough to melt butter. And if you have to feed kids waffles and can't, just can't, serve them frozen grocery-store waffles, these freeze easily. Just reheat them in a toaster on a light setting, or bake for 3 or 4 minutes at 350° F.
Valli Herman is a Staff Writer at the Los Angeles Times