From the LA Times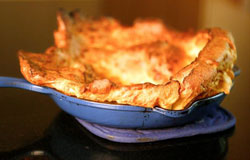 I could tell you I love them because they're so easy to make — who doesn't love a dish that comes together in less than half an hour? Or I could say it's because of their delicate texture and flavor — light and airy, but rich and almost nutty to the taste, it's like biting into a delicious cloud.
But honestly? The reason I love these pancakes is because of the way they puff in the oven. They're downright fun to watch.
Call them what you will — Dutch babies, German pancakes, Dutch puffs — they're all about the souffle factor. They're kind of like Yorkshire puddings or popovers, but supersized. Mix together a few ingredients and pour the batter into a hot buttered skillet, then put it in the oven and watch it swell. In minutes, these babies may puff to more than five times their original size.
It's magical. Serve them quickly; like a souffle, the magic begins to deflate once they're out of the oven.