Using a non-stick pan is the way to go with this dish. Just be sure to use the pan on a medium-low to medium flame to avoid health risks.
Serves 4

Time 15 minutes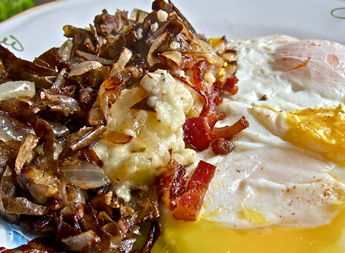 Ingredients

1 cup skins, peeled from 6 large potatoes, julienned
2 cups mashed potatoes, King Edward, Sierra Gold or Yukon Gold potatoes
1 tablespoon sweet butter
1 medium onion, washed, peeled, root, skin and stem removed, roughly cut
1/4 cup Italian parsley, leaves only, washed, finely chopped
2 slices cooked, crisp bacon, cut into strips (optional)
Sea salt and pepper, to taste

Method

Melt the butter in a non-stick pan over a medium flame, saute the potato skins, onion and parsley until lightly browned, add the bacon (optional) and the mashed potatoes, mix together, season with sea salt and pepper and saute until potatoes are lightly browned on top and form a crust.

Serve with eggs, any style.
- Recipe courtesy of David Latt from Men Who Like To Cook.