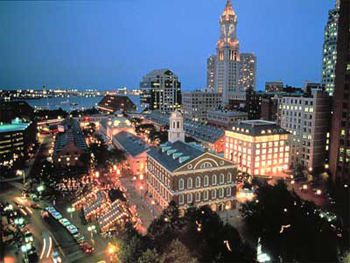 I have often found myself envious of some guys because of their wives. Not because of their looks, great figures or personalities, my wife has all that and more. Before any ladies reading this get angry, hear me out. There is nothing more devastating for a foodie than marrying a vegetarian who has more food hang-ups than a Italian meat locker. I don't want a mistress, at least not in the traditional sense. I need a food girlfriend or even food wife. Even California would allow me that bit of polygamy. When it comes to looks, many people tell me that I look like that famous guy Emeril Lagasse. It happens enough that when my son was only two and I took him to the local market to do the weekend shopping, he pointed and screamed "daddy" when we reached the pasta aisle and came upon a row of Emeril's pasta sauce. To my embarrassment most of the aisle looked and began moving to towards us. So if my son thinks Emeril is his daddy than it must have validity. Here is the irony, I am a good cook, love all types of food and even do the dishes.

This is where my jealousy begins. Until I can convince my wife to allow me to take up with a food wife, I have turned all of my latest business trips into food adventures. Unfortunately I don't have an unlimited budget, so I find the best places to eat for the money. I use tools like Yelp and Zagat online, a traveling man's best friend. A recent business trip took me to Boston. I was alone and by the time I checked into my hotel I was extremely hungry. I had not had a chance to eat all day because I was making my way from New Jersey to Boston and making sales calls on the road in between. I have been to Boston on multiple occasions, always for combo business/pleasure trips and always with my indifferent food wife. Now alone in one of the greatest cities for food, it was me vs. food. I had limited time and many places to try.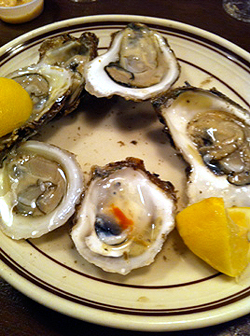 I began my adventure at the Union Oyster House, a place that you shouldn't find a vegetarian dead, located at 41 Union Street near Faneuil Hall this place serves up some great oysters and perhaps the largest quantity in the east coast. After this lovely start, I had planned on having one of the perennial Boston favorites – a Lobster Roll. I was chatting with the man sitting next to me who seemed to know his way around a good meal and asked him about the Lobster rolls at the Union Oyster House. To which replied, "They are good but you know what's amazing, the hot Lobster Roll at Neptune Oyster." Or something like that. We chatted for a while longer while I washed my original plate of oysters down with another pint of Sam Adams Boston Ale. Figuring a local would know, I asked for my bill and headed for Neptune Oyster located at 63 Salem Street.

This place is cozy, a real estate term which means tiny, but stylish and smells great. I asked for a seat and despite the fact the place was packed the hostess took me through a labyrinth of people to the only lonesome seat at the bar. I sat and waited next to a group of guys that were discussing wines. Although not an expert in this field I am also not a novice so I interjected with a few sentences and evidently ingratiated myself because these guys poured me some of their wines and seeing that they were the wine reps that supply Neptune Oyster this wasn't a bad group to meet. Next I was given the menu to which I replied, "I don't need one, I would like the hot Lobster Roll." When my waiter who turned out to be the owner asked me if I had been there before, I told him, "No, but I'm on a mission." He looked perplexed so I told him and the wine reps that "I am going to eat my way through Boston in one night" which they thought that was cool. One of the reps asked me where I had been and where I was going; "I just came from the Union Oyster House where a patron turned me on to this place and after this I am going to Giacomo's for the Pasta Carbonara." Now keep in mind that Pasta Cabonara is considered a health hazard without my previous start. These guys gave me looks that meandered between shock, disgust and amazement.

Just then "it" arrived.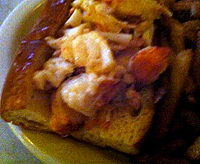 Using my iphone camera and the lighting of the place don't do justice to this beauty. You just have to take my word. The drawn, butter-dipped lobster was glistening and tasted like nothing that I can describe in my limited grasp of the English language. I had been to the cliff top and looked down at the promised land - the atlantic ocean and its offering of Lobster. It's amazing the conversations that you can have while under the influence of Lobster, drawn butter, a roll and some great wine. None of which I remembered an hour later. I asked for the check and rapidly presented my credit card as I was on mission to conquer more food. I said my quick goodbye's - like when you are trying to dump someone fast - and bolted out the door. Using the Navigation software on my iPhone I made my way to Giacomo's located at 431 Columbus Avenue.

Walking fast through the North End, was like being in a spy thriller movie when someone is darting through the dark streets because he is being chased. I was the one giving chase and my victim was Pasta Cabonara. It took an agonizing 10 minutes, because I wasn't sure if they were still open, but they were. I walked in and was seated immediately. This place smelled like a garlic, meat and cheese had a menage-a-trois and conceived several food kids. I asked for a glass of water and the house Chianti.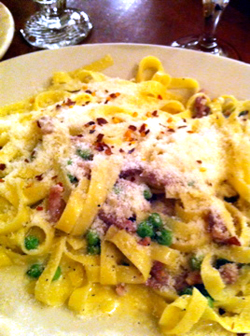 When the waitress came back and started to ask for my order, before any sound could reach my ears at a speed of 1126 ft per second, I replied "Pasta Carbonara." My lack of hesitation confounded her for a second, "So, Pasta Carbonara. can I get you something to start?" She evidently didn't know where my adventures had taken me that night. I was like the Gulliver of Foodies, the Magellan of seafood. "No thanks, that's it." If you ever eaten as much as I had done, waiting for food for ten minutes seems to take forever. But then, there it was, in all its glory.

I went to work, I don't want to bore you with the gory details but 15 minutes passed and I was through most of my plate. I had to stop. You see like every good story there is a beginning, a middle and an end. There was one more thing I had to conquer; dessert or is it desert. English is my second language so I always have trouble with some words. The waitress saw something in my face that made her approach.

"Is everything OK?"
"Great!" I replied. "I am done though. Just the check please."
Seeing that Giacomo's is a cash-only place I reached for my wallet which due to the tightening of my pants during my excursion was harder to reach then I thought. I paid the bill and was on my way..... Where could he possibly be going next you're asking yourself? Mike's Pastry Shop in the North End for a Cannolli. I got there and even at 10:30pm on a Thursday night this place was packed. I entered and when it was my turn I asked for the last remaining Cannoli, you should have seen the disappointed look on the face of the father with his teenage boy behind me.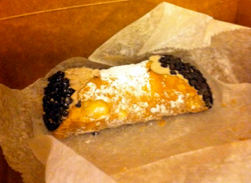 As for me I showed no remorse. I took my recognizable box tied with string and was on my way to my hotel room where I would unwrap the end of my story. It took about 15 minutes to walk to my hotel, during which time I kidded myself that the walk would help me burn off part of my dinner. Yeah, one bite of the Lobster Roll. Maybe. The rest was right there with me. I got to my hotel, went up the elevator and got to my room, I opened the box and though stuffed like a Christmas goose I admired my Cannoli and went for it.

I have heard of hitting the wall but never had experienced anything like this. I had food intoxication. Maybe it was the approximately 15000-20000 calories I had consumed or maybe I had poisoned my body with too much food. Needless to say that night was a mix of restless moments blended with the strangest dreams one could have. I believe I dreamt that I was drowning in a pool of cream sauce. I promise, I will never make a plan this extreme again, but good food and travel, I'll always take more. So if you're a frustrated housewife with a crappy eater of a husband and are looking for a food husband, I am considering applicants in different states and cities. I wish.


Payman Emamian lives in Pasadena, California with his wife and two kids. They are all picky eaters.