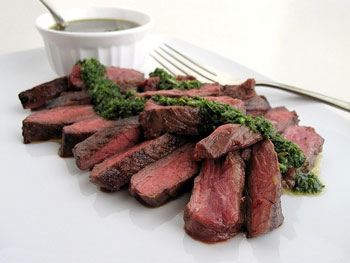 1-1/2 pounds skirt steak
2 tablespoons olive oil
1/2 teaspoon Spanish smoked paprika
fine sea salt
freshly ground black pepper
chimichurri sauce, recipe follows

Preheat gas grill or grill pan to high.

Trim any fat or membrane from steak. Cut steak into two or three manageable lengths.

In a small bowl, combine oil and paprika. Brush steak with mixture. Liberally season with salt and pepper.

Grill 3 to 4 minutes per side for medium-rare. Rest for 5 minutes.

Once ready to serve, slice steak diagonally against the grain. Pile slices on a platter and drizzle over with spoonfuls of chimichurri. Serve additional sauce on the side. Yield: 4 hearty servings.

Chimichurri Sauce

Note: I prefer using a mortar and pestle to make my chimichurri. The sauce is more flavorful when it is made by hand. Alternatively use a food processor.

3 large garlic cloves, coarsely chopped
1 teaspoon fine sea salt
1/2 teaspoon freshly ground black pepper
1/2 teaspoon crushed red pepper flakes
1 cup finely chopped parsley (about 1 bunch)
1/4 cup finely chopped cilantro
1/2 cup olive oil
1/3 cup red-wine vinegar
1/4 teaspoon Spanish smoked paprika

In a large mortar, mash garlic together with salt, pepper, and red pepper flakes. Add parsley and cilantro; mash until herbs release their aromas and essential oils. Stir in oil, vinegar, and paprika. Keep at room temperature until ready to serve. Leftover sauce should be refrigerated and lasts for a few weeks. Bring back to room temperature to serve. Yield: 1-1/2 cups.
- Recipe courtesy of Gastronomer's Guide.