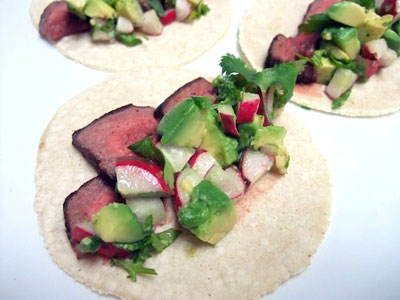 (adapted from Everyday Food, Martha Stewart)

Makes 6 tacos

Ingredients:

10 ounces bison strip loin steak
vegetable oil
chile powder
ground cumin
1 avocado, pitted, peeled and diced
4 radishes, diced
2 green onions, sliced
2-3 tablespoons cilantro
1 jalapeno pepper, diced, more or less as desired
2 limes
pinch salt
6 small corn tortillas, preferably homemade

Instructions:

Allow the steak to come to room temperature. Pat it dry with paper towels then rub it with a just enough vegetable oil so it is glossy, but not slick. Sprinkle all sides with chile powder and ground cumin. Heat a cast iron skillet. Sear the meat 3 minutes on the top and bottom and then another 2-3 minutes on the other two sides (loin is almost square shaped). Allow to cool 10 minutes then slice thinly.

Make salsa by combining the diced avocado, radishes, green onions, cilantro and jalapeno. Slice the limes in half and squeeze them over the salsa, sprinkle with a pinch of salt, gently mix then taste. Adjust seasoning as you see fit. Heat the tortillas, top with slices of steak and salsa.

Enjoy!
- Recipe courtesy of Amy Sherman