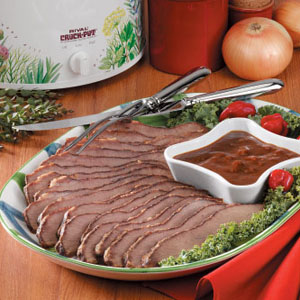 The barbecue was brought to Virginia in 1700 from Haiti, but soon became a Southwest favorite. The word could mean "from snout to tail" as in roast pig or "a framework of sticks" as in grill. I really do like this recipe. It has a taste of real Texas BBQ Brisket.
5 pounds beef brisket, well trimmed
1½ teaspoons salt
½ cup catsup
¼ cup vinegar
½ cup onion, finely chopped
1 tablespoon Worcestershire sauce
1½ teaspoons liquid smoke flavoring
1 bay leaf, crumbled
¼ teaspoon pepper
Rub meat with salt.
Place on 20x15-inch piece of double thickness heavy-duty aluminum foil.
Stir together remaining ingredients; pour on meat.
Fold foil over meat and seal securely.
Place on grill 5 inches from medium coals.
Cook, turning once 1½ hours or until meat is tender.
Courtesy of Thom Hackett