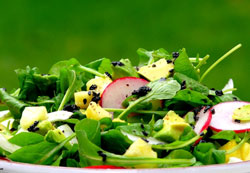 Pineapple-Fennel Salad with Ginger-Sesame Dressing
Adapted from Vegetarian Times

Dressing
1-1/2 Tablespoons lemon juice
1 Tablespoon honey
1 Tablespoon sugar
2 teaspoons grated fresh ginger
2 Tablespoons sesame oil
2 Tablespoons black sesame seeds or toasted sesame seeds

Salad
1 medium fennel bulb, quartered and thinly sliced (1 cup)
1 cup diced fresh pineapple
1 cup thinly sliced radishes
2 green onions, thinly sliced (1/4 cup)
1 cup diced avocado
3 cups arugula or watercress

It starts out a little scary looking but so does love sometimes. Anyway, I like making my dressings in a mason jar and just shaking them up. But if you don't have a mason jar, whisk together lemon juice, honey and ginger in a small bowl. Whisk in oil, then sesame seeds. Season with salt and pepper.

Prepare your salad ingredients. I used a mandolin to thinly slice my radishes and fennel. Toss fennel, pineapple, radishes and green onions with salad dressing in a large bowl. Stir in avocado and arugula gently, season with salt and pepper. Divide among four plates and serve immediately.
- Recipe courtesy of Cathy Pollak