Alaska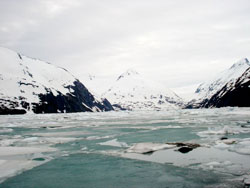 Twenty years ago this summer I fell in love with Alaska. After graduating from college and moving permanently to Atlanta with friends, I thought I had died and gone to heaven by escaping my small town life. My parents quickly threw a wrench into all the excitement by informing me we were going on a family vacation to Alaska - a week on a cruise ship. I balked, begged and pleaded not to go. I am the least 'outdoorsy' person in the world. I don't like to be cold and I don't like to be hot. My definition of camping is a night at a Holiday Inn Express.

We boarded the ship in Vancouver and spent the first night at sea. When I woke up the next morning and peered through the tiny porthole, I was amazed and astonished. It was the most magnificent scenery I had ever seen. The snow covered mountains soared above the clouds and the ocean looked so vast it almost seemed powerful. Since there are only about 4 hours of darkness each night, I woke up when the sun came up with as much excitement as a child does on Christmas morning.
Los Angeles


by

Fredrica Duke





When I first met my husband, I told him that I'm part Native American. I'm also half Jewish. This is when he said to me, "You don't live on a reservation…you make them."

I'm sorry, but you will...

Read more...

San Francisco


by

Amy Sherman





If you've never been to San Francisco you need to know our Summer starts NOW. Yes, in September. Not only is it pretty and warm and sunny but Summer produce--tomatoes, corn, pepper, and peaches...

Read more...

Michigan


by

Lisa Dinsmore





On our recent trip to Chicago, my husband and I found ourselves fairly secluded from the outside world as we cared for my aging father-in-law while my mother-in-law got a much needed vacation....

Read more...

Southern California


by

Matt Armendariz





You might remember we were on a slight squash kick recently. It coincided with a visit to one of my favorite restaurants here in Long Beach, Michael's Pizzeria. I've said a million times that I...

Read more...