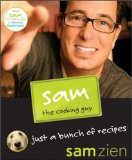 There is one cooking show on television that Jeff and I enjoy watching together: Just Cook This with Sam The Cooking Guy. Actually, it's the only cooking show that we enjoy watching together. Why? Because as the name implies, it's more about Sam than the food. And that's a good thing, because unlike many t.v. personalities, Sam is funny, often irreverent, and completely laid-back. He keeps cooking real. For example, he doesn't delete mistakes from the show. As he said yesterday, "Shit happens in the kitchen, and we leave that in the show. People like that." We do, Sam.

Sam The Cooking Guy tapes his show in his own kitchen (which I can tell you is gorgeous), and prepares no-fuss meals that are big on taste. When he started it in 2001, his goal was to make cooking easy and appealing for the average home cook. So he nixed the fancy kitchen equipment and esoteric ingredients and achieved his goal -- his show has won 11 Emmys. His first cookbook Just a Bunch of Recipes
was published in 2008, and he has two more coming out in 2010.
Yesterday I met Sam at a luncheon at his house. He was a fantastic host. Despite cooking and serving the entire time, he managed to chat with guests, share amusing stories, and pose for pictures, all effortlessly.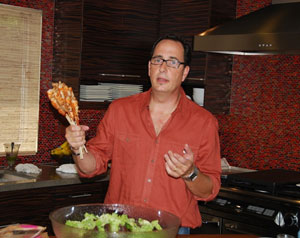 His food was fantastic too. After serving cocktails made from a refreshing mixture of vodka, soda, lime juice, cucumber, and basil, Sam served three distinctive salads. He has teamed up with Fresh Express to promote their new salads. According to the company, Fresh Express Seasonal Salads "are nurtured, tended and picked at the peak of freshness by Fresh Express farmers, then packed into eco-friendly brown bags with less plastic than the typical packaged salads." They also taste great. I know. I ate a lot of them yesterday.
First Sam served a salad that would delight any carnivore: mache lettuce was topped with succulent sliced steak, piquant goat cheese, and crunchy tortilla strips then dressed lightly with a tangy cilantro vinaigrette. For seafood lovers, Sam served spicy grilled shrimp skewers on a bed of tender lettuce leaves. He saved the best for the last. His Mediterranean spinach salad consisted of fresh spinach tossed with warm, garlicky roasted tomatoes, Parmesan cheese, and a light olive oil and balsamic vinaigrette.
Not only were they delicious, but they were also served on chic eco-friendly plates which Sam says, "are totally bitchin'." They are, actually. They're made from fallen bamboo leaves.
So next time you need a good meal and a good laugh, tune in to Sam's show. He's totally bitchin'.
For more information about Sam, his book, his products, and where you can view his shows, visit his website, Sam The Cooking Guy. 
Susan Russo is a free lance food writer in San Diego, California. She publishes stories, recipes, and photos on her cooking blog, <Food Blogga and is a regular contributor to NPR's <Kitchen Window. She is also the author of two upcoming books that will be published in the fall of 2010.