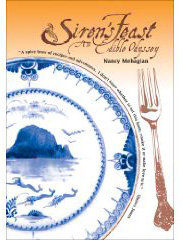 I'd just finished writing my memoir Siren's Feast, An Edible Odyssey
, a coming of age tale filled with recipes from my Armenian youth, my vegetarian restaurant on the island of Ibiza and various exotic locales I'd spent time in.

When I first told people I had written an autobiographical cookbook, they offered perplexed looks.
"A what?" was the usual response.
An editor at a large publishing house told me my combination autobiography/cookbook was not feasible for a large bookstore display.
"Where would it be placed?" she asked. "In the cookbook section? With the travel writing? The biographies?"

"Put it everywhere," I told her. "People will figure it out."

As often happens, that editor got it wrong. When Isabel Allende's Aphrodite – a Memoir of the Senses and Ruth Reichl's Tender at the Bone – Growing Up at the Table hit the bestseller list at the same time, the publishing world had to come up with a name for the genre and thus the term "culinary memoir" was born.
The culinary memoir existed, however, before its name and I had already tasted it. I had long adored such writers as M.F.K. Fisher and Alice B. Toklas because like many people who love to eat and cook, I also love to read about food. I like to be inspired to prepare a new dish. A recipe alone does not do that for me. Often a photo of the dish will get my salivary glands going, but a good story accompanying the recipe, a way to connect my brain and my palate, truly inspires me.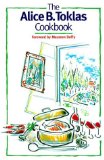 My own culinary memoir tells the story of how, in 1969, I opened one of the first vegetarian restaurants in Spain, on the Mediterranean island of Ibiza. My partner Sharon and I soon discovered that our menu did not appeal to the locals but rather to the crowd of expatriates living on the island. Each evening our guests would linger after their meals and lively discussions ensued, creating the atmosphere of a salon. Friends nicknamed me Alice and my partner Gertrude (even though we both relish men). A little research led me, in 1970, to discover The Alice B. Toklas Cookbook—a wonderful combination of recipes and reminiscence, first published in 1954.
The book covers the years Alice spent in France with Miss Stein and the meals she prepared for her and their distinguished guests. In her chapter "Dishes for Artists," Toklas describes a bass she decorated for Picasso when he came to lunch, using mayonnaise, tomato paste, sieved hard-boiled eggs, truffles and fine herbs. The chapter titled "Murder in the Kitchen" tells of the necessary horrors that preceded certain dishes—assassinating a live carp with a knife for Carp Stuffed with Chestnuts, smothering fluttering pigeons for Braised Pigeons en Croutons and the untimely death of Alice and Gertrude's pet duck Blanchette, who was scared to death by a neighbor's dog and thus became Duck with Orange Sauce.
My favorite food writer I discovered later—Mary Frances Kennedy Fisher – told to use the acronym M.F.K. Fisher since she was writing in an era when women were not accorded the respect they deserved and all the great chefs were men. Food, dining, recipes and cooking were the subjects that caused Fisher to muse on all concerns of life. She believed that "when we exist without thought or thanksgiving [for food] we are not men but beasts."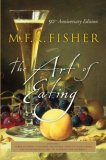 M. F. K. Fisher began her career by translating Brillat Savarin's great tome The Physiology of Taste. Her wit, knowledge, wisdom and prose will forever eclipse any writer daring to follow in her tradition. Though she shied away from revealing the deeply intimate events of her life, she did include enough personal detail to qualify as a memoirist, though at the time of their publication, her books on food were referred to as "gastronomical works." Five of these gastronomical works have been compiled into a collection called The Art of Eating
, that includes Serve It Forth, Consider the Oyster, How to Cook a Wolf, The Gastronomical Me and An Alphabet for Gourmets.
As with all memoirists, the things M.F.K. Fisher chose to write about reveal who she was as a person. Kitchens were an obvious source of interest. She describes the first kitchen she cooked in, the way her ideal kitchen would be designed and the horrors of a filthy kitchen. "Good food can never come from a bad kitchen."
I heartily agree.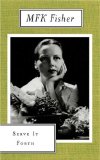 The first of her books, Serve It Forth
, opens with Fisher's intention to write a book about eating, what to eat and about people who eat. Recipes in her book, she wrote, "will be there like birds in a tree—if there is a comfortable branch." She also devoted an entire book to oysters, Consider the Oyster
, imagining the life of that mollusk, describing those who dive for pearls, different kinds of oyster-eaters and including every conceivable method of preparing them. How to Cook a Wolf, first published in 1942 when wartime shortages were at their worst and food rationing was a "horrid reality," contains some dark humor and reveals a great deal about the practical M.F.K. Fisher.
When I read How to Cook a Wolf
, I recognized that long ago another woman had come to the same conclusion I had regarding food: that life is too short to eat bad food. Fisher explained this beautifully. "I believe that one of the most dignified ways we are capable of, to assert and then reassert our dignity in the face of poverty and war's fears and pains, is to nourish ourselves with all possible skill, delicacy and ever-increasing enjoyment. And with our gastronomical growth will come, inevitably, knowledge and perception of a hundred other things, but mainly of ourselves. Then Fate, even tangled as it is with cold wars as well as hot, cannot harm us." A timeless message.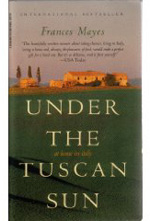 Some of my favorite culinary memoirs were written by the poet Frances Mayes, Under the Tuscan Sun
and her second installment, Bella Tuscany
— both true "slice of life" works. With her breathtaking visual descriptions of Cortona, the Italian hill town where Mayes and her mate take up residence and restore an abandoned ancient country house called Bramasole, she offers up the pleasure of getting to know a foreign country, its people and their cuisine. It is the presence of the earth around them that makes the recipes feel authentic. Rather than an intellectual savoring of food, Mayes offers a true appreciation of the soil from which her fresh ingredients sprang.
Francis Mayes' books are not strictly culinary memoirs, however. She seems most concerned with the renovation of her run-down villa in Under the Tuscan Sun, and in Bella Tuscany she delves into extensive research for landscaping the villa's flower and vegetable gardens, combining this with tales of travels through other rural villages in Italy. Though I loved her memoir for the vivid prose she uses to recreate her experiences, the recipes are tossed in like grace notes.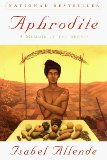 Aphrodite: A Memoir of the Senses
, Isabel Allende's contribution to the culinary memoir genre, is more like a smorgasbord of personal musings on elements of food and eroticism. Though it contains fascinating bites of personal history, it does not follow classical story structure. Rather Allende offers what I call "little plates," appetizers without a real entrée—titillating tidbits of commentary on various aspects of sensual experience, various aphrodisiacs and in conclusion a collection of Allende's mother Panchita's recipes. I have not read the book cover to cover, but have rather grazed from time to time. I have not prepared one recipe from Aphrodite and probably never will.
Reading James Beard, on the other hand, makes me so hungry I will run out and shop for ingredients I don't usually buy, then race home to prepare one of the dishes. Like his girth, Beard's passion for food was abundant. If he bothered to include a recipe for something common, it is the best version of that dish to be found. A man after my own stomach, he always seemed to go the whole hog.
One of Beard's classic books, Beard on Food
, is a great read for food lovers. It cannot, however, be called a culinary memoir since the stories are anecdotal, and a collection of anecdotes, however fascinating, does not a memoir make.
In a culinary memoir, we digest the life of a human being—a perfect blend of who that person is, what he or she has seen, heard, tasted, smelled and felt. A delicious culinary memoir needs to transport me to another time and place so that I might travel there in my imagination, dine with the same people the author has and feel sated at the end of the meal described. I want all my senses stimulated by good writing, strong characters, novel ideas and, above all, honesty. I want the whole truth of a writer, even his or her muddy origins.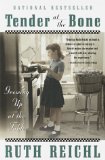 Some of the truest culinary memoirs are those by Ruth Reichl, formerly the restaurant critic for the New York Times and currently the Editor in Chief of Gourmet magazine. Her first offering, Tender at the Bone: Growing Up at the Table
, begins her autobiographical food journey in childhood. Her mother, whom she refers to as the "queen of mold," was not her culinary inspiration; nor were her three grandmothers (the third her maiden aunt.) Reichl's cooking muse was her Aunt Birdie's housekeeper from Barbados.
As an adolescent on her first trip to France with her parents, little Ruth discovered haute couture and haute cuisine. After her parents shipped her off to boarding school in France, her real culinary adventures began. The recipes continue through France, Greece and Tunisia until her return to the States and graduate school in the Midwest, where she met the man who became her husband. Included is the first meal she prepared for him. They eventually settled in Berkeley in a commune and Ruth became the cook at the Swallow, a collectively owned restaurant. When one of the steady customers became editor of a new San Francisco magazine, he offered her the job of restaurant critic, launching her long and successful career.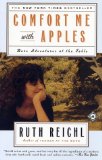 Comfort Me with Apples
, Reichl's follow-up memoir is perhaps more satisfying than her first for its honesty about the dissolution of her marriage and the loss of an adopted child. Between meals, life happens. In her second act, Ruth's gourmet education came at the hands (literally) of Colman Andrews, another food writer and critic, who, during an adulterous affair, taught her about wines and introduced her to Parisian life as well as to an interesting cast of French gourmands. Comfort Me With Apples is full of humor and of tales of the early days of such culinary stars as Wolfgang Puck and Alice Waters, as well as wonderful recipes. In all, it's a richly satisfying read. Her third book, Garlic and Sapphires: The Secret Life of a Critic in Disguise
chronicles her days as the restaurant critic for The New York Times and the various characters she created to conceal her identity.
I like to think that my own culinary memoir, Siren's Feast, An Edible Odyssey is most like Ruth Reichl's. We are of the same generation, the same astrological sign and nearly the same age. We both love food. We both were hippies, though she hardly mentions the dope. The major difference is that Ruth is famous while I, on the other hand, have merely hobnobbed with the famous, having earned my living for a long time as a massage therapist and Jin Shin Jyutsu practitioner in Hollywood.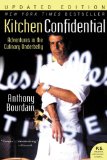 In the past few years I have fallen in love with Anthony Bourdain, that wiry, cigarette-smoking, earring-wearing bad boy chef, who, in my estimation, has the dream job—traveling the globe, meeting the locals and eating their cuisine. His book Kitchen Confidential: Adventures in the Culinary Underbelly
caused a sensation and he has been having a grand time ever since. Though he eats some things along the way that no one could pay me enough to even smell, I'd trade places with him anytime.
Since Kitchen Confidential hit the shelves a slew of others have followed in its wake, most notably, Insatiable: Tales from a Life of Delicious Excess
by Gale Greene — naughty and deliciously entertaining, Cooking for Mr. Latte
by Amanda Hesser—charming and with so many great recipes I've dog-eared the whole book and Julie and Julia
by Julie Powell— laugh out loud funny and soon coming to movie theaters everywhere.
So it seems that my idea of an autobiographical cookbook wasn't so far fetched after all, as long as readers are hungry for recipes along with the revelations.
Nancy Mehagian is the author of the culinary memoir, Siren's Feast, An Edible Odyssey.