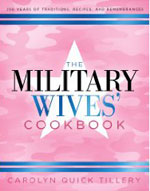 Sometimes we stumble upon books or products we just have to share. The Military Wives' Cookbook
is a fascinating read on so many levels and the meals created are both delicious and timeless. It is a collection of recipes, anecdotal stories, soldiers' letters home and vintage photographs tracing the history and unique contributions of American military wives. It recreates the scenes and foods that showcase the commitments and sacrifice that military wives have given the nation for more than two hundred years, beginning with the American Revolution.
The recipes are broken down into special events and daily menus, such as The Country Brunch. The entry for Strawberry Butter Spread begins with the following letter:
"An officer made me a miniature churn with a bottle and a little wooden dasher put through a cork. We were at the time marching each day farther and farther into teh wilderness, but occasionally came to a ranch where there was a little cream...and as I sat under the tent-fly after we made camp, it was soon transformed into butter in the toy churn." -- Libby Custer
We have also included a second item from that menu to give you something to spread your newly crafted butter on.
STRAWBERY BUTTER SPREAD
1/4 cup butter
1/2 cup cream cheese
1/4 cup honey
1/4 frozen strawberries, thawed
In a small bowl cream together the butter and cream cheese. Add the honey and strawberries; mix thoroughly. Chill slightly before serving.
Makes 1¼ cups
BUTTER YEAST BISCUITS
1 package active dry yeast
1/2 cup warm water (110 to 115°F)
1/2 cup butter
1 egg
1/4 cup sugar
3 cups all-purpose flour
1 teaspoon salt
1/2 cup boiling water
In a cup dissolve the yeast in warm water. Beat together the butter, egg and sugar; add the dissolved yeast and stir. Add the flour, salt and boiling water; mix well. Refrigerate the dough overnight or until well chilled. Roll out the dough to 1/4-inch thickness and use a biscuit cutter to cut into biscuits. Re-roll the scraps and cut again until all the dough is used.
Allow the biscuits to rise for 1 1/2 to 2 hours. Bake in a preheated 350°F oven until golden brown, about 12 to 15 minutes.