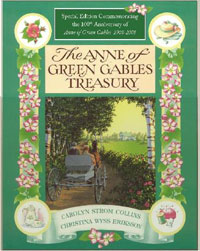 There are times when I scrutinize my outfit before I leave the house, and find it absurdly, compulsively over-accessorized. It's then, as I grab my keys and prance out with red sneakers, mismatched bracelets, and a brooch shaped like a turnip, that I'll find myself thinking of her. Subtlety, in many things, is often advised; but I, heeding Anne of Green Gables, rarely listen. If at a dinner party, after I've gone on and on to someone about a book they'll probably never read, ignoring every attempt they make to escape me, she'll just appear in my mind. And often, when faced with a moral dilemma, like whether to leave the last bite of pie for the person I'm sharing it with, or to request that my upstairs neighbors stop rollerblading on the hardwood floor, I'll ask myself:
"What would Anne of Green Gables
do?"
Not an irrelevant question, as living by Anne's standards has served me well since I first read the book many years ago. I was on yet another road trip with my mom, traversing California's Rte. 395 and poking around the woods while she trout fished. We'd decided to rest for a few days in Markleeville, a one-horse mountain town with plenty of wild flowers and a place next to the gas station that sold Italian ice. What better place to read Anne of Green Gables than in a nostalgic, white-shuttered boarding room? I had my sister's once loved but now discarded copy and I read it late at night, so blissfully tired I sometimes kept just one eye open, curled up on my side. Anne was exactly the kind of girl I wished to become, and when I reread the book this year for its 100th anniversary, I admired my childhood insight.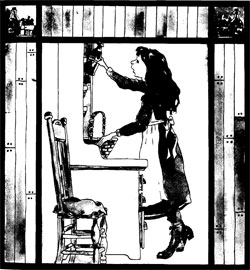 Anne of Green Gables is, to put it plainly, a total badass.
An opinionated redhead with a tragic past, she wins spelling bees and scholarships, communes with nature, and consistently sucks at doing what people tell her to do. Adventurous with fashion, fearless with dares, Anne's a sharp-tongued wit who can serve up hand-made biscuits with a side of self-made sass. While many fondly remember the time she broke a slate over her long time rival and love interest's head, I prefer her cool as a cucumber reaction to receiving a candy heart from him that read: "You are sweet". Anne is many things, but sweet? Bad choice of words, buddy.
"… Anne arose, took the pink heart gingerly between the tips of her fingers, dropped it on the floor, ground it to a powder beneath her heel, and resumed her position…"
It's the stuff revenge dreams are made of.
It's also the kind of stuff I've never, not to this day, had the guts to do.
Because I believe there are two types of girls out there: the Anne-girls, and the would-be-Anne-girls: otherwise known as the Dianna Barrys. I, of course, fall into the latter category, trying to emulate Anne, to settle at the very least for keeping her around. Dianna, Anne's best friend, may have learned to exercise her imagination, to get into trouble every now and again, but only ever by proxy. As a child I had two Annes around: my mom and my older sister. My mom, the irreverent Anne, cared less about appearances than fishing and swearing; and my sister, the black sheep Anne, went against the grain by staging lewd comedy routines and pissing off the nuns. And while I might have had Anne's good grades and a short temper, a couple of the minor Anne-girl qualities, I was so afraid to stand out that I told everyone our car horn, which played La Cucaracha, was actually a tragic wiring mistake. In short, being as self-possessed as Anne was my fantasy, as it is for every Dianna type, and I had a couple of perfect models right at home.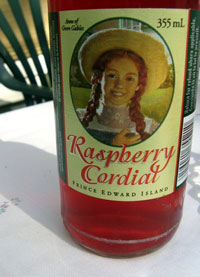 One thing we all shared was a fondness for The Anne of Green Gables Cookbook that my mother had given to my sister years before I came to the novel itself. It provides recipes for foods that Anne made at Green Gables, with the corresponding passages and charming illustrations, decorating each page. I loved to flip through it in conjunction with the novel, seeing what went into her scones, or the gingersnaps she served to company. The recipe for raspberry cordial, a drink that featured prominently in a famous episode of the book, begins with this Anne-ism:
"I love bright red drinks, don't you? They just taste twice as good as any other color."
Which in my opinion is totally true. They're fancy and tart and eye catching, something to sit up straight for and enjoy. Much of what's eaten in the book sounds this way. Sugary, fruit-filled, white flour dreams, food at Green Gables seemed to me an endless tea party, an excuse for the children to pretend to be grown-up, and for the adults to indulge them. The details of Anne's playful approach to her favorite foods made her all the more real to me. And the chance to make her recipes at home became the best way to play Anne of Green Gables imaginable.
Our most used recipe from the Anne cookbook was for cowcumber boats, a fancy name for macaroni salad stuffed into a cucumber; or in other words, the waspiest dish ever made. They were my sister's specialty, and I never dared to make them, just sat drinking raspberry cordial while she assembled them herself.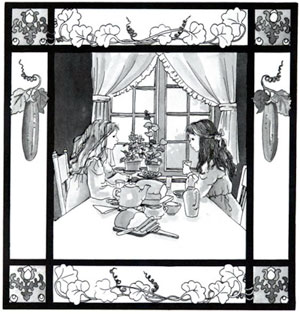 I have a recipe card for cowcumber boats that I wrote in middle school in an embarrassing imitation of my sister's circular and feminine penmanship. My attempt, unfortunately, makes A's and O's look like the thugs of the alphabet. My handwriting never did improve past sharp and irregular, which is actually kind of Anne-like, if you ask me.
The following recipes for cowcumber boats and cordial are lifted directly from Kate Macdonald's The Anne of Green Gables Cookbook, which I finally possess. I have my sister's old copy, which I always coveted, and have now finally written my own name on the sleeve lest she try to take it back some day. I suggest that when assembling the cowcumber boats, you do it as Anne would: Make a giant mess in the kitchen. And for those of you who've always wanted to re-enact the extra strength, unsupervised tea time in chapter 26 with a good friend, mix a little vodka into the cordial. Just make sure you both a get a turn at playing Anne.


Cowcumber Boats

1/3 cup elbow macaroni
1 7-ounce can tuna
I medium carrot
I medium celery stalk
1/3 cup mayonnaise
2 tablespoons lemon juice
1/2 teaspoon salt
pinch of pepper
3 medium cucumbers

Boil the macaroni until tender and drain. Put in a medium mixing bowl, and add the drained can of tuna. Peel the carrot and grate it into the bowl. Add the celery, chopped into tiny pieces. Stir in the mayo, lemon juice, salt and pepper. Peel the cucumber, discard ends, and slice in half lengthwise. Scoop out any seeds or soft flesh. Fill each cucumber with the macaroni salad. Arrange on a platter and serve.


Dianna Barry's Favorite Raspberry Cordial

2 packages frozen unsweetened raspberries
1¼ cups sugar
4 cups boiling water
3 lemons

Combine raspberries and sugar in a large saucepan. Cook, stirring occasionally, over medium heat for 20-25 minutes, until all sugar has dissolved. Mash thoroughly with a potato masher, pour through a strainer, and make sure you extract all the juice. Discard pulp and seeds. Squeeze two of the lemons and add to the raspberry juice. Boil 4 cups of water, add to juice, and cool. Chill in the refrigerator. Serve with a lemon slice in each glass.
Agatha French is a Boston based writer about to make a cross country move. After 12 years away from her home turf of Southern California, she will be returning to Los Angeles in the fall. She, and Ryan, are very much looking forward to the year round fruit.