From the Huffington Post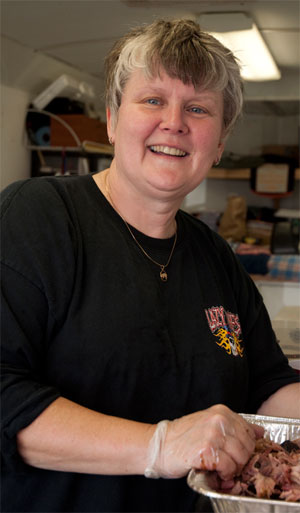 It is late Wednesday morning and Candy Sue Weaver is on the road again, barreling through Arkansas. Her iPod is pumping Henry Gross, Eagles, and Delbert McClinton through her radio and she is just as pumped. She can taste victory up the road. Weaver is a sportswoman, and she is on a 700 mile drive in her pickup, trailer in tow, towards a baseball diamond wedged between a cornfield and a soybean field in northwest Illinois. But Weaver is not a baseball player. She is competition barbecue cook.
Competitive barbecue may be the fastest growing sport in the nation with more than 500 cookoffs across the country. Many of the cooks at each event are locals, but a growing number are, like Weaver, part of a band of roving gypsies who drive for days and get fired up to go for gold and glory. Some hit the highway every weekend from May through October.

In July, that baseball field in tiny Shannon, IL, population 900, becomes the "Barbecue Field of Dreams" because Shannon is the home of the Illinois State BBQ Championship (ISBC) and the destination for a fleet of RVs and trailers loaded with meat and steel and some of the best barbecue cooks in the world. These are the real Iron Chefs towing torpedo shaped smokers the size of sportscars on their way to a throwdown Bobby Flay wants no part of.