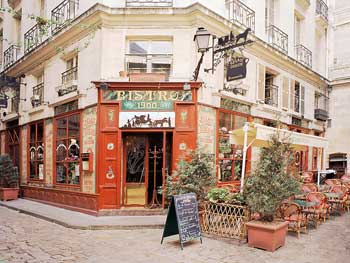 I always measure bliss in minutes. Our 220 minutes ticked away at the restaurant on Rue de Bac in Paris. We were meeting our friend, Nicolas outside of the closed restaurant on a Saturday afternoon where he worked. He was the 'Chef of the moment' in a city where that accolade can be very fleeting. We had made plans to have dim sum and afternoon tea with dessert at one of his favorite secret places. We would spend the afternoon walking and talking about food, like we often did.
When Nicholas met us he flung open the door of the closed restaurant. He was panicked. Perspiration dripped off his forehead, his scent equaled his stressed appearance. "Come in, I have a big problem" in an unusually loud voice. My sister and I immediately asked what was the problem and how could we help.
Being the chef of the moment, he had caught the attention of a wealthy Japanese investor who planned on opening a 3 star restaurant in Paris. The investor's secretary called Nicolas and announced that he was to create a lunch for Mr. X and 5 other guests in two hours. This was his interview, death by fire or not. What can we do? "I need someone to serve and help me cook." He was beginning to yell.
"Okay, let's get organized, I said calmly." Menu, what are you serving. My mouth dropped open as I listened. Is he trying to kill him with such heavy food, I thought? A touchon of Foie gras , confit of rabbit, glazed pork belly, mon dieu! And to top it all off the pork belly had been sitting on top of the dishwasher all night, kind of 'a French thing'- sans refrigeration.
Well, if I had a super hero suit now was the time to tear off my clothes and roll up my sleeves as Nicholas was useless as he spun and perspired. I started barking out orders, catching the stress that filled the air. We need to set the table, flowers, ALL the flatware. We needed 2 baguettes!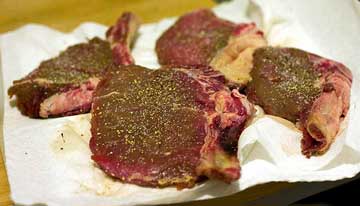 Off Nicholas flew, slamming the door! My sister stared at me, "I know what you thinking and, no, I don't have a plan, yet." I opened the refrigerator, hoping that by looking in the refrigerator the menu would unfold. It was jammed full and completely unorganized.
I moved things and 6 gorgeous veal chops appeared, 2 large fillets of sole on a lower shelf, Normandy cream, a paper bag of wild mushrooms in okay shape along with a bag of golden Rein apples. That will do.
I reached up on my tippy toes and grabbed a sauté pan. Threw a knob of butter to melt in the pan while my sister peeled apples rapidly. I made a quick pastry crust and tossed it in the freezer. Dumped all the mushrooms into the pan and covered it. Salted and peppered the chops just as Nicholas ran in with bread.
Thank god for the food processor! I placed the filets of sole into the bowl along with egg whites and chopped tarragon and pushed the button as I watched it whirl. As the puree quickly thickened, I added cream along with herbs and seasonings. My sister had little dishes all buttered and waiting. Off to the water bath and oven they went.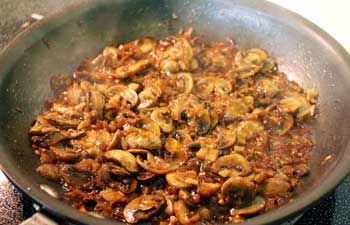 When the mushrooms started to smell fragrant I added a touch of Calvados, turned down the flame and left the cover off. In a spare moment I asked how the table preparation was coming, "is it done?" "Almost!" "Hurry, time is ticking away!"
I had forgotten that I needed a sauce for the fish terrine. More refrigerator diving: Shallots, parsley but nothing inspired me. A salad to go around it, that works. Time to check the freezer to see if the pastry dough is firm enough to roll. Ready, I rolled out the galette with a wine bottle, filled it with the Rein apples from Normandy, a toss of sugar, and a splash of Calvados and into the oven it went. Problem - the temperature for the galette was not the same temperature the terrine needed, Mon Dieu! Some days aren't perfect.
Up on my toes again for a pot big enough to hold lots of water to boil the rice. A little butter and a fair amount of finely chopped herbs in the finished rice complemented the veal chops nicely. Where were all the beautiful vegetables that dazzle me in the daily markets? Not in this refrigerator.
And then I hear voices walking in the front door-I panic. Nicholas has an apron on and I don't. Suddenly I am 'just' the dishwasher called in to help. Oh, well, not in my mind. The investor barely gave me a second look as he and his entourage go up the narrow spiral stairs.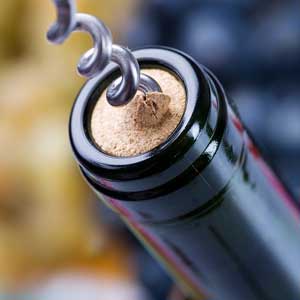 My poor sister is opening wine bottles madly, I can hear the corks pop on the champagne and the bread guillotine cutting the baguette into slices that fall into a waiting basket. I assembled salami, a small slice of the foie gras touchon, a thick slice of Roquefort and hand it to her to carry up the narrow staircase. I can hear Nicolas interacting with his guests that he didn't know as I fired up the grill for the chops.
Lunch went very well even if Nicolas never left the table, and my sister climbed those stairs with a full tray more times then I could count. I heard her mumbling "serve from the right, take from the left."
As soon as dessert was consumed they all filed out without having coffee and again no one looked at me in the kitchen. When we departed, pots and dishes were piled everywhere, after all I was not the dishwasher, I was the Chef de Cuisine at a very trendy bistro.
I sustained only one burn, put out a pretty nice meal and we had a bistro for 220 minutes. My sister's feet hurt like all the wait people of Paris as she shuffled on our walk.
On our walk back to the hotel my sister and I noticed every restaurant for rent and looked at each other and smiled. Maybe we should do this and we both said at the same time, "and serve all those beautiful vegetables from the daily market, if we had more time… And I want an apron.
Brenda Athanus runs a small gourmet food shop in Belgrade Lakes, Maine with her sister Tanya called the Green Spot.
The Green Spot
This email address is being protected from spambots. You need JavaScript enabled to view it.
207.441.9327