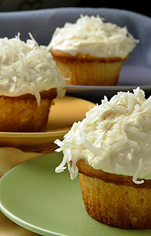 Dear SOS: Whenever I get out to L.A., I have to stop at Auntie Em's Kitchen in Eagle Rock for a cupcake fix -- specifically, for a coconut cupcake with coconut cream cheese frosting. It's a miracle of a baked good. Do you think you could get the recipe for a Bostonite who's stuck on the East Coast dreaming of this confection?
-- Jenny Sawyer, Boston
Dear Jenny: This billowy coconut cupcake is pretty irresistible. The cake has a hint of almond and a light buttermilk tang. There's tender, shredded coconut baked into the cake too. And the frosting -- it's a cream cheese frosting with butter mixed in, airy and creamy both, finished with a sprinkling of more shredded coconut on top. This one's for you, Bostonites.
Get the recipe at L.A. Times...