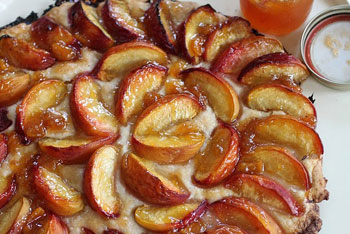 Slightly rustic and simply elegant, this easy dessert is a mainstay in this Farmer's kitchen! The complement of basic ingredients with pretty fruit is what makes this dish so elegant. Peaches in the summer, apples in the fall, pecans in winter, and strawberries in spring, the dough for this tart is quite versatile.
Just shy of true pie crust dough, this tart dough is a perfect blend of the slightly sweet with just enough puff and flake. Sweet and tart peaches are the piece de resistance for this lovely dessert, and a glaze of peach preserves adds a beautiful sheen to the tart and makes the perfect dollop for serving.
Fresh from the farm peaches are wonderful just about any way you slice them. For this dessert, I leave the skin on, which helps hold the shape of the peach wedges. Arranging from a center floret of peach slices and concentrically ringing the dough with the fruit is quite beautiful if you roll the dough into a circle. If you roll your dough into a more rectangular shape, lines of peach slices make for a great presentation as well.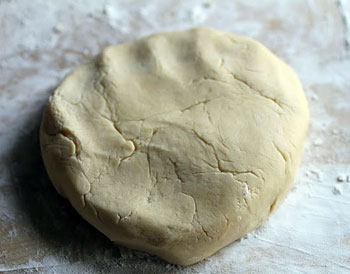 With such wonderful access to summer produce, I'm constantly trying different recipes from this season's bounty. Peach crisps, peach cobbler, peaches and cream, peach pound cake….so many wonderful things to do with peaches…this peach tart being a favorite of mine. The dough and simplicity of the fruit is so good, and the glaze of preserves or jam dresses up the dish and adds a dose of sweetness to the tart peaches. Such a compilation of basic flavors and ingredients is always a winner.
Gather your garden goodness or the freshest fruits from the farmer's market and make a peach, or plum, or apple or pear tart as homage to the season. Store this recipe for tart dough in a handy place, for it can be used throughout each season and throughout the year. From the orchards of Middle Georgia and this Farmer's kitchen, I hope this peach tart becomes a favorite of yours!
Tart Dough
2 cups of all purpose flour
½ teaspoon of salt
1 tablespoon of sugar
1 ½ sticks of butter
½ cup of ice water
Combine the dry ingredients with your fingers in a large mixing bowl. If using a food processor, then just pulse to mix.
Slice the cold butter into cubes and mix with hand mixer or pulse in food processor until the dough begins to clump into a ball and the butter is pea size or smaller.
Pour the ice water into the mixture, slowly, continue mixing simultaneously until ball of dough is formed.
On a floured surface, roll the dough into a large "pat" and chill for about an hour.
After chilling, roll or spread out the dough into your desired shape…the rustic feel of an imperfect circle or rectangle is what makes the simple elegance of this dessert so pretty.
Slice 6 or so peaches into wedges and arrange on the dough to suit your own fashion. Cover with sugar, about half a cup, depending on the sweetness of the fruit and your own sweet tooth.
Bake at 350°F for about 45 minutes or until the dough is golden brown… Glaze with peach jam or preserves and serve with a dollop of peach preserves as well. Whipped cream ain't bad either!
James T. Farmer III was born and raised in Georgia, where he continues to live and work as a landscape designer. He shares his love of food, flowers and photography on his blog All Things Farmer.